A friend tipped me off to this place, not far from Chiefland. It quickly became one of my most favorite towns.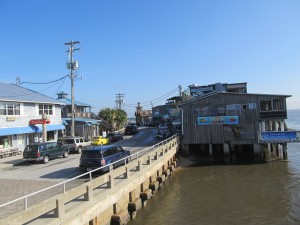 It's on the gulf, surrounded with small keys (islands), specializes in farmed clams, looks ridiculously cute, and has an amazing number of bars and restaurants. I headed towards one and ordered a bowl of steamed clams, and must say they were the among the best I've had. I was going back for more when I got pointed to Tony's for their clam chowder, the best in the world. Yes, this was the best clam chowder I've ever had.
Cedar Key is not going for pretentiousness or show, they want to do what they do best and nothing more. Two ladies have a canvas bag-making factory called Cedar Key Canvas. It is totally two ladies that sew the most amazing attractive, useful, and durable bags from coin purses to purses to backpacks to stow bags, must-haves for any of the seagoing types (a lot of them around here) and the fashion-seeking. Best made bags in the world.
The next time I'm in Florida my trip will require a stop at one of the RV parks in Cedar Key. Prices are surprisingly low and fair, while quality of everything is the highest. It's pretty, not crowded, food is the best.